Image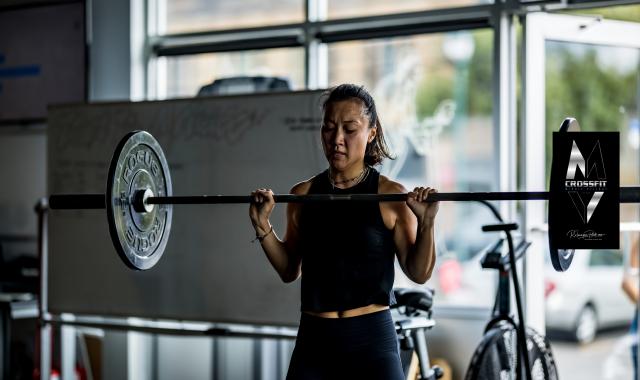 LILY TRAN
Here at Crossfit Middle Village we instill and practice five core values and our Member Lily Tran  embodies a few if not all of these values. She doesn't just show courage at pushing her self but she show accountability both toward her husband and children who all come in to our gym and work hard.Lily is extremely consistent and comes almost to every 5:30am  class, she is extremely coachable and understands how to be process driven.She show up even when she isn't feeling a 100% but will still work hard and take the coaches advice to adjust for better training. Lily isn't just an inspiration to her children and husband , but to every working mother/father and female/male in this community. This is why Lily is our athlete of the month.. keep crushing it Lily.
-COACH JRAY-
What do you enjoy most about being a member of CrossFit Middle Village? 
I love the intimate community and warmheartedness of our members and coaches. CFMV is different because the classes are small and you're given a lot more individual attention. 
How/when did you get involved in CrossFit? 
My husband actually got me involved in CrossFit. He was part of another box for 10 years and is now part of CFMV! I joined CFMV 2 years ago with other colleagues from my Real Estate office. CFMV was kind enough to start 4:30 am classes just to accommodate our loony request. Only Lisa Grassia and I are left but we still hold each other accountable.
What was your first CrossFit workout? How did you feel afterwards? 
Snatches and HSPU. I scaled it but I was on the floor trying to catch my breathe once the wod was done. It felt amazing because I was convinced I wouldn't be able to finish but I did!
What do you enjoy most about CrossFIt?
The community, camaraderie and variations in the WOD. You're suffering through the workout but you know the other people around you are also going through the same thing. You admire them but you're still secretly trying to beat their time. We make each other push harder and it's amazing. Something you just don't get anywhere else. 
What is your favorite WOD or Lift? Hang cleans
What is your least favorite WOD or Lift?  Any WOD that involves a lot of running. I hate running.
What motivates you? How has CrossFit changed you? 
My husband and kids motivate me. My entire family are now members of CFMV. I want my kids to learn true grit. To persevere and stick to their goals despite setbacks. We are now a fit and active family and I love it. 
What were your goals when you started this journey ? 
I wanted to make fitness a daily habit and not a daily choice. We have been consistently working out 5 days a week now and it feels great. 
What are your goals for the upcoming year? 
Pull ups! I've been progressing but they're so hard. 
Do you have any advice for new members? 
Don't cherry-pick your workouts. The ones you are avoiding are probably the ones you need the most.