Image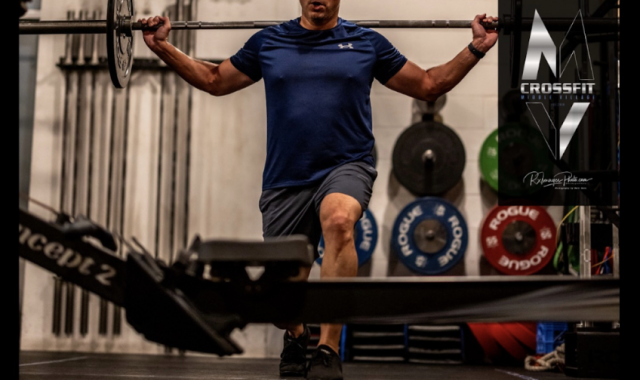 NELSON PINEDA 
"Nelson has a been a member of ours for about a year now! He is such a great athlete and an awesome person to coach. He takes in every cue gracefully and implements the feedback right away. He works hard in every class and has been really crushing his workouts. You can always count on him to be welcoming and friendly, in fact I don't think there has been a single time that I thought he was having a rough day. Keep on crushing your workouts!!" 
-Coach Julia
What do you enjoy most about being a member of CrossFit Middle Village? 
I appreciate the sense of community and support from my fellow athletes and coaches.  In each class I attend, there is always someone bringing positive vibes, making the workouts a little less stressful and a lot more enjoyable.  
How/when did you get involved in CrossFit? 
I started CrossFit in December of 2022.  
What was your first CrossFit workout? How did you feel afterwards?
My first workout was both intimidating and exhilarating. Starting with the push press, a movement I thought I could never perform correctly or with any significant weight, was daunting. However, with Coach Fuchs' guidance and encouragement, not only did I complete the class, but I also managed to surprise myself with how much weight I could handle. That initial accomplishment left me feeling invigorated and eager to continue pushing my limits and challenging myself with each new workout. 
What do you enjoy most about CrossFIt? What is your favorite WOD or Lift? 
I enjoy the varied workouts the most because they provide a continuous challenge, both mentally and physically.  I don't have a favorite WOD, but I do enjoy workouts that involve HIIT training with short bursts of intense exercise followed by a brief rest.  I feel these WODs increase my strength and stamina. 
What is your least favorite WOD or Lift?
Any WOD that involves wall walks is my least favorite.  However, I try to attend these classes because I will eventually embrace this movement. 
What motivates you? How has CrossFit changed you? 
The driving force behind my motivation to CrossFit is how it makes me feel throughout the day. Attending early morning classes kick-starts my mornings, infusing a sense of liveliness and energy.  I must also give credit to my dog, Jake, who faithfully wakes me up at 4:30 a.m.. giving me no excuse not to start the day with a great workout session. Crossfit has been a transformative journey for me.  Due to my significant weight loss and increased strength, I no longer endure the back pain that used to be a constant discomfort.
What were your goals when you started this journey?
My goal was to gain strength, lose weight, and feel healthier. 
What are your goals for the upcoming year? 
Here is a list of my goals for the upcoming year:
Increase Overall Strength 

Improve Cardio Endurance

Enhance Flexibility

Compete in Events

Improve my Nutrition
Do you have any advice for new members? 
Continuously establish achievable goals and, upon reaching them, set new ones to challenge yourself.  Track your progress for motivation and accountability, and don't hesitate to ask for help from your coaches and fellow athletes. Above all, enjoy the process and celebrate your achievements.