Image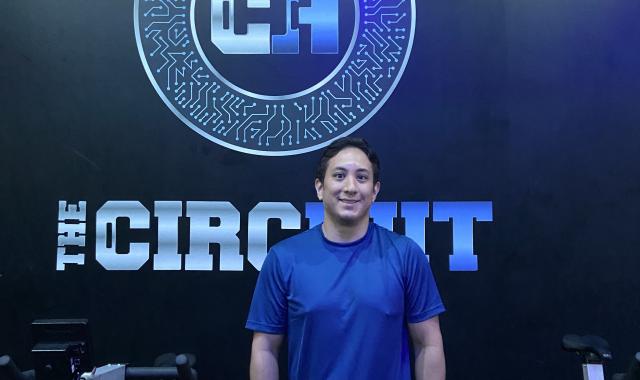 JAMES FEIJOO
James has come a very long way since he first started his fitness journey with us. He started by training with Coach Ag and incorporating outdoor fitness classes almost a year ago. He was one of the very many people who joined our facility during the pandemic when outdoor classes were all we had. Since then he's lost more than 30 lbs, impressed his doctor with his most recent blood work and has kicked the signs of pre-diabetes out of his life. We couldn't be more proud of you James. Those days of feeling light headed after a workout were clearly worth it ?! Keep crushing your fitness goals and challenging yourself to accomplish more than you ever thought possible! ? 
What do you enjoy most about being a member of The CircHIIT?
The owners, staff and the community. Especially early on when I had more limitations, the motivation and encouragement helped me keep pushing forward.
How/when did you get involved with The CircHIIT? 
In the summer of 2020 I saw myself at my lowest physical level ever. I initially tried exercising on my own but felt I would have better results with group classes.
How did you feel after your first workout at The CircHIIT? 
Watching the others at the gym I felt that I was very behind. I will never forget my first box jump I did and wondered how anyone can do this from 30-45 seconds straight for more than one round. 
What do you enjoy most about The CircHIIT? 
That I know I will have my cardio for the day.
What is your favorite station and movement at The CircHIIT?
The fitbench and the goblet squats. I prefer movements that I can feel the next day as I debate whether to sign up for the day.
What is your least favorite stations/ movement at The CircHIIT?
This is always a tie between treadmill and burpees. Especially if I do these stations towards the end.
What motivates you?
My kids. After losing my father in his late 50's to heart disease I want my children to have both of their parents for as long as possible.
How has The CircHIIT changed you?
Has it changed me? I can't even eat a bar of chocolate without feeling guilty. Prior to this I would eat what I could when I could with little regard. I never thought I would be one of those people who passes on a slice of pizza or french fries.
What were your goals when you started this journey ?
Lose 20 lbs and not get winded when I walk to the corner. I also hoped my blood tests would improve but did not think this one was realistic at the time.
What are your goals for the upcoming year?
I would like to be in shape to complete the Murph challenge. Seems intense.
Do you have any advice for new members?
It can be physically and emotionally draining, especially early on when you do not get the results immediately. But if you keep your focus and discipline good things will happen. So hang in there.