Image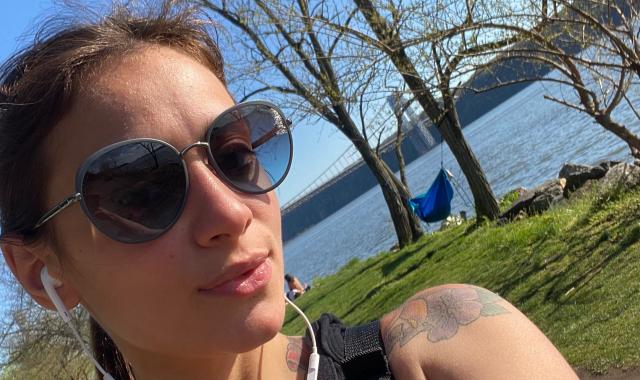 ELIZABETH CAMERIERO 
Hungry for results is the best way to describe Elizebeth. From her first day in to present time , she continues to demonstrate the core values of Crossfit middle village. A fun and bubbly personality mixed with a work ethic of a professional athlete, Elizebeth always jumps out her comfort zone to better herself wether it's crushing CircHiit workouts or making appearances on the CrossFit side to build her tool bank of workouts. Nothing makes me happier then to coach her and see her perform each week. Keep crushing it lady , and do it for the 7:15pm CircHIIT squad ! Woohoo ! 
-Coach Matt 
What do you enjoy most about being a member of The CircHIIT?
What I enjoy most about being a member of CircHIIT family is everyone is so friendly and willing to help you. Nobody is there to judge you, and the coaches are so happy to see how much you improve. 
How/when did you get involved with The CircHIIT? 
I started with CircHIIT in October 2020,  a fellow member who loves the gym as well put me on and been hooked ever since! 
How did you feel after your first workout at The CircHIIT? 
My first CircHIIT classes were tough definitely with being able to keep up my endurance with the high intensity classes, but afterwards I built up a stamina to keep up and feel great after every class!
What do you enjoy most about The CircHIIT? 
What I enjoy most about CircHIIT is every class is a different workout and no matter the workout you leave feeling great,  you've  worked up a good sweat and you leave feeling like you accomplished something! 
What is your favorite station and movement at The CircHIIT? 
My favorite station is the TRX and Fit Bench station.  I enjoy the TRX station because I like working on my core and I also enjoy the Fit Bench station to help me with my strength portion. 
What is your least favorite stations/ movement at The CircHIIT?
I think my least favorite station would be the pull up bar only because I'm still trying to become stronger where I don't need the help of the resistant bands to pull me up.
What motivates you?
My health motivates me, I want to live a long healthy life and I know staying consistent training and eating right will contribute to living that long life! 
How has The CircHIIT changed you?
CircHIIT has made me stronger physically and mentally.  I've realized that I can put my mind to anything and accomplish it! 
What were your goals when you started this journey?
My goals when I started CircHIIT was to become more toned and work on endurance.
What are your goals for the upcoming year?
My goals for this upcoming year would be to definitely work on my pull ups and become stronger on my upper body.  I also want to start doing the CrossFit side more and learn the movements more efficiently. 
Do you have any advice for new members?
My advice would be to get into a routine and  just stick with it and be consistent and never give up.  Staying consistent will take you a long way.