Image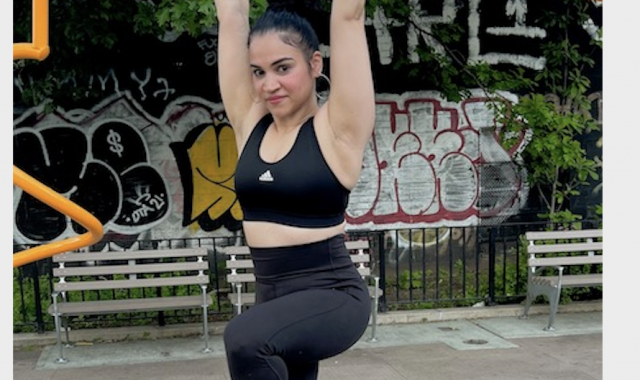 JACQUELINE MORAN 
"Jackie is the epitome of consistency and persistence. In other words, if you work your butt off you don't have to buy it!! Mom of 3 with a full time job and she doesn't let any of that stop her. Progressing on the treadmill and advancing in all movements, I've watched her turn her skill set around and shape herself into quite the athlete. Wondering if she will ever come to the "dark side " because of her talent, it's always great to coach her because of her hard work and the eyes she gives when a station either crushes her or vice versa  Continue to crush it lady!" -Coach Matt
 
What do you enjoy most about being a member of The CircHIIT?
I love working out with the members of CircHIIT. No matter your fitness level, everyone supports each other. Also, CircHIIT has kept me grounded and dedicated to my overall well-being. The coaches not only guide you but they keep track of your progress and motivate you to keep reaching higher goals. When you come to class you feel positive vibes from members and coaches. I feel supported in my workouts and this has helped me persevere beyond my expectations. 
How/when did you get involved with The CircHIIT?
I took my first CircHIIT class August 30, 2021.  I was introduced to CircHIIT by a close friend who invited me to a class. During the pandemic, I stopped working out and I gained a lot of weight. I had always kept an active lifestyle pre-pandemic but due to fear and other factors I stopped working out. I've been actively coming to CircHIIT workouts for 9 months.
How did you feel after your first workout at The CircHIIT? 
After my first workout, I was extremely sore and exhausted. I was out of breath and realized how unfit I was. The first class put things in perspective for me to either continue a stagnant lifestyle or get up and start moving. 
What do you enjoy most about The CircHIIT? 
What I enjoy most about CircHIIT is that you will always be challenged physically and mentally. The workouts change on a daily basis and different muscle groups are activated every time you go. I feel a sense of enthusiasm in each class as I know I will be learning different techniques to strengthen my body. I also enjoy the guidance of the coaches as they provide you with useful strategies during your workout. The coaches make sure you have the right form to decrease the chances of getting injured. Knowing that I have coaches who are attentive and care for its members' safety is very important to me. 
What is your favorite station and movement at The CircHIIT?
My favorite station in CircHIIT is the treadmill. Ironically, when I first started it was my least favorite as I couldn't even jog on it. Now I can sprint and have learned how to breathe while running. I usually leave it for last as I know I can complete the targeted calories without compromising the rest of my workouts. 
What is your least favorite stations/ movements at The CircHIIT?
My least favorite movement is the V-up. My biggest weakness is my core. Although I've improved in doing other core exercises, I have not mastered doing a V-up and have to rely on modifications. However, I know that eventually I will improve this movement and have a stronger core. 
What motivates you?
Motivation is tricky for me when it comes to working out. I would say I am determined. If I ask myself am I motivated to do 100 jump ropes or 50 burpees? The answer is "no'' But am I determined to reach that number or get close to it? The answer is "yes". When I look at the layout of the workouts I focus on how I can improve from the previous class and that's what keeps me going. I feel great when I meet the targeted calories or reps posted on the screen.  
How has The CircHIIT changed you?
My mindset has changed completely. I remember joking with Coach Matt and telling him that if in one year I didn't look good I was going to get cosmetic surgery. He assured me that if I stayed consistent I wouldn't need surgery and instead I would be more proud of the strength I would gain from working out. After consistently working out,  I feel active, strong and healthy.  I'm grateful for the advice as I wouldn't have achieved that with cosmetic surgery. Moral of the story:  I saved a lot of money and I'm stronger than ever before. 
What were your goals when you started this journey?
I had one goal. To lose weight.
What are your goals for the upcoming year?
My goal for this upcoming year is to continue to get stronger and do an unassisted pull up. I have never done a pull up in my life and I am determined to reach that goal. 
Do you have any advice for new members?
My advice to new members is to stay consistent. I have a full time job and am a mom of three kids. I have a very busy lifestyle. I don't always feel motivated to workout but I show up and do my best. I make these workouts part of my schedule to keep myself accountable. My advice is that rain or shine show up. Once you finish you will feel a sense of accomplishment. Make working out part of your routine and you will not regret the results.