Image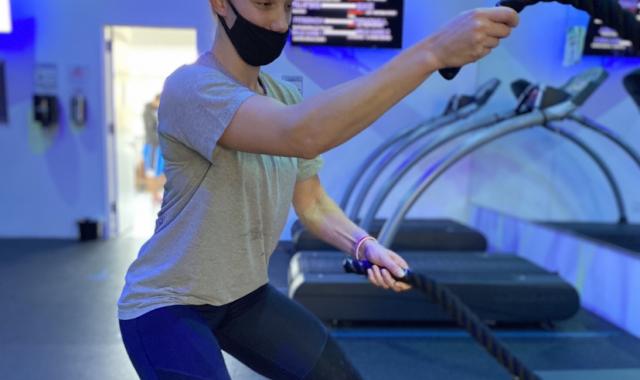 JANINE DORAN 
After coming back from having a baby I saw Janine and was like wow!!! Look at her! I knew she upped her membership to unlimited and was shedding for her wedding. She has been incredibly consistent with her workouts and you can see she has worked incredibly hard to prep for that day in her white dress! I remember her first day, so shy and timid and almost nervous about what the class was going to be like, but she did great. She has come a very long way and I can not wait to see how far she goes! Keep up the great work Janine!! 
- Coach Julia 
What do you enjoy most about being a member of The CircHIIT?
The friendly environment! All of the coaches and members are welcoming. Everyone encourages each other throughout the workouts. 
How/when did you get involved with The CircHIIT?
My husband convinced me to sign up for The CircHIIT. He is a member of CrossFit and attended a few CircHIIT classes. I started The CircHIIT by signing up for once a week and ended up really enjoying the workouts. It didn't take long for me to realize I wanted to go more often and now I go 4 to 5 times a week.  
How did you feel after your first workout at The CircHIIT? 
I was a little discouraged after my first workout. There were certain movements that were new to me and I had a difficult time learning them. The encouragement from the coach that day made me realize I just had to keep trying and not give up. 
What do you enjoy most about The CircHIIT? 
The CircHIIT is my stress relief. After a day of work, I enjoy going to get a workout in. The CircHIIT helps me to clear my mind and just focus on the different stations/movements that I need to complete.
What is your favorite station and movement at The CircHIIT?
My favorite station is the rower. I usually like to start at this station because it motivates me for the rest of the workout.
What is your least favorite station/ movement at The CircHIIT?
My least favorite station is the treadmill. I have never enjoyed running so I usually do not look forward to this station.
What motivates you?
Noticing positive results has been my motivation. I have been able to feel healthier and better in my own skin. 
How has The CircHIIT changed you?
The CircHIIT has helped me to be more consistent. In the past, I did not have much motivation to go to the gym and I would not go very often. Signing up for CircHIIT and seeing results has been encouraging for me. 
What were your goals when you started this journey ?
When I started CircHIIT I really just wanted to make sure I would be in shape for my wedding reception. While that is still a goal for me, I have also realized that being in good physical shape is a goal I should always want for myself. 
What are your goals for the upcoming year?
For the upcoming year, I would like to be able to do unassisted pull ups. I would also like to do more strength training using kettlebells. 
Do you have any advice for new members?
Don't give up if some of the movements are new or difficult for you. The coaches will work with you and even adapt movements for you if necessary. The more often you go, the more comfortable you will  become with the stations/movements.