Image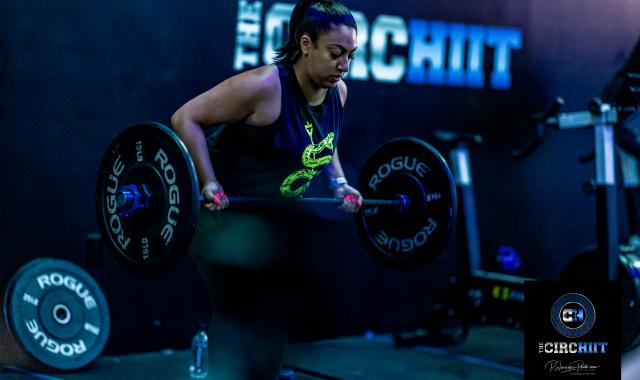 BIANCA BARTOLO
Bianca is a force to be reckoned with. She takes on every task with a sense of "I got this sh**" attitude. She is consistent and works hard to get the workouts done. She holds herself accountable to get to class and she is always fun to have in class. As coaches we absolutely love having her and coaching her. She welcomes the coaching, motivation and extra push, qualities, we as coaches, love members to have! 
-COACH JULIA-
What do you enjoy most about being a member of The CircHIIT? 
The community! I really enjoy showing up to class and being surrounded by friendly faces. Everyone is so welcoming and the coaches are the absolute best, helping you each step along the way and encouraging you that you are stronger than you think.
How/when did you get involved with The CircHIIT?
I joined the 6 Week Weight Loss Challenge back in June and once that was complete I knew I wanted to be a full-time member. I was looking for a type of workout that would motivate me and a community that was inviting.
How did you feel after your first workout at The CircHIIT? 
Accomplished. It was definitely hard and challenging but afterwards I felt so proud that I was able to complete it. It totally helped that I had my best friend as my workout partner!
What do you enjoy most about The CircHIIT? 
It's never boring! The classes are always different so you never get tired of doing the same movements. I also really enjoy the challenge and working towards movements I might not fully be able to do yet.
What is your favorite station and movement at The CircHIIT?
I really enjoy the movements we do at the fitbench and generally the strength portion of the workout. It's been really great learning different movements and the correct form when doing them.
What is your least favorite stations/ movement at The CircHIIT?
Burpees!
What motivates you?
The CircHIIT itself. From the coaches, fellow members and the atmosphere of how the studio is set up, it all makes up the perfect formula to give it your best and keep coming back for more. Also, a really good playlist never hurts too!
How has The CircHIIT changed you?
I am now a person who enjoys early morning workouts! I would have never thought that would be me, but it's honestly the best way to start the day. I also feel The CircHIIT has been incredible for my mental health.
What were your goals when you started this journey?
When I started this journey I strictly wanted to lose weight. After a few weeks my mindset shifted and while that's still a goal, the verbiage has changed a bit. I really want to be strong, fit and healthy.
What are your goals for the upcoming year?
I want to continue to get stronger and healthier. Would love to also get better at running on the treadmill. And maybe I'll try CrossFit hah!
Do you have any advice for new members?
Give it a try! Go at your own pace and know that the coaches are always there to help you. Once you start and see how much you are capable of doing, I guarantee you'll be back.