Image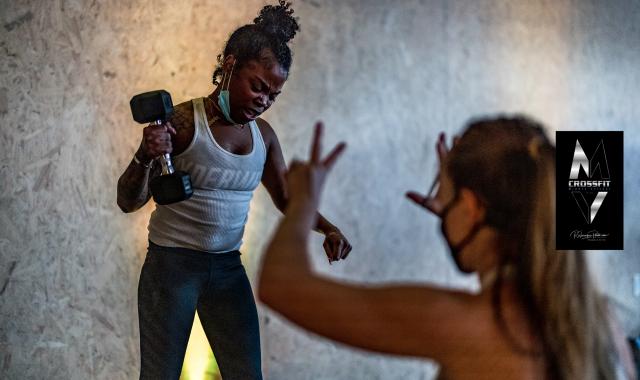 ASHLEE ALEXANDER 
Ashlee is an inspiration to many in our community, even if she doesn't realize it. When I met Ashlee, she shared with me that crossfit has been a dream of hers but that she was nervous about starting this journey. Well, after her first foundations session, I quickly realized she had nothing to fear and that she would do just fine. Ashlee is such a positive person and she isn't afraid to try something new. Im sure anyone who has met her will agree. When presented with a challenge she doesn't shy away. She may need to adapt things, but that doesn't stop her from aiming for her goals.  In the few months she has been a member we watched her succeed in so many ways including jumping rope and doing box jumps. I speak for the whole coaching staff when I say that watching Ashlee hit a personal record on her clean and jerk (which isn't an easy movement for her or anyone for that matter) during the last Friday nights lights was both exciting and motivating. I can't wait to see where she will go next!

Coach Ag

What do you enjoy most about being a member of CrossFit Middle Village?
The community!!!!!!. Chris,Ag, and Jay Ray saved my life. There are physically no words to express how greatly they have impacted my life and mental health. There are just some people that a person is supposed to encounter in their lifetime to help save their life and this is what Chris, Ag, and Jay Ray did for me. They saved my life. Along with all the other coaches and members. When my body wants to stop, they become the voice in my head that pushes me to finish a workout and I couldn't be more grateful for that. 
 
How/when did you get involved in CrossFit? 
I always wanted to do Crossfit but I was scared because I thought that I would need a personal trainer because of my CP. I always watched the Crossfit games and told myself that "i want to do that". I worked out at different gyms before, but I was always intrigued by the women in the Crossfit games and I wanted to be like them. So on a random day in November 2020 I googled the first crossfit gym I found. At first nobody answered, but literally  5 mins later Julia called me back and we had a hour-long conversation about Crossfit and that was a sign from the universe  that this was the place that I belonged.
What was your first CrossFit workout? How did you feel afterwards? 
I started my first crossfit workout around mid Nov of 2020. My first Crossfit workout was super intense, but I love how vulnerable I became and how I had to use positive self talk to get me through the final stretch of the workout.
What do you enjoy most about CrossFIt? 
What I enjoy most about Crossfit is how functional it is as a person with Cerebral Palsy.  Even with my restrictions there is a way to do what everybody else around me is doing. Crossfit has shown me that giving up on yourself is not an option, but also at the same time do everything with a big heart and from your soul.
What is your favorite WOD or Lift? 
My favorite is definitely lift is back squats because I am better at them
What is your least favorite WOD or Lift?.  
My least favorite WOD is any workout that has to do with running.
What motivates you? How has CrossFit changed you? 
What motivates me is my ability to try different things with my body. Crossfit changed me because I am able to do more with my body that I could not have done before. I am able to find techniques and tricks that work with my CP. The workouts do not get easier, I get stronger to finish the workout. 
What were your goals when you started this journey ? 
My goal when I started crossfit was to be stronger physically 
What are your goals for the upcoming year? 
My goals for the upcoming year is to be able to do consistent single unders and do strict pull ups, and hopefully go a box jump on an actual box.
Do you have any advice for new members? 
My advice for new members is to be grateful for personal little goals that you get to.  Be grateful for every half pound that you are able to add on to the barbell, every extra burpee or box jump that you fight to push through, be grateful for those little accomplishments. They might be little, but it's better than what you were doing yesterday.