Image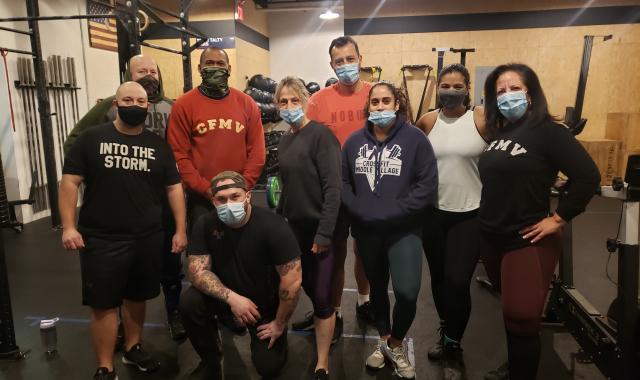 JUAN DELAROSA 
Our athlete of the month for March 2021 is a very special selection.  For those of us who have had the opportunity to get to know Juan we can all agree that Juan is very passionate about our CFMV community, and because of his passion from time to time can become very emotional about certain topics of conversations... However, there is another thing that we can all agree with, Juan not only embodies the CULTURE of this community, but is the ultimate ambassador inside and outside of the facility.  He demonstrates this through the INTEGRITY in which he conducts himself each day he walks into our gym.  He holds himself and others around him ACCOUNTABLE by always giving 110%, and assures that no one is left out.  During the COVID-19 shutdown Juan acted with COURAGE by encouraging me to evolve and adapt to the ever changing landscape around us. And, most importantly when you take a class that Juan is in, the element of FUN vibrates through him touching every other person in class.
March 16th will be one year that our facility along with so many other businesses were forced to shut down due to the COVID-19 pandemic. I, along with most of you had periods during the shut down where I lost my sense of purpose. We all were faced with so many uncertainties. I share this with all of you because Juan was one of a few individuals that I spoke to everyday. He would reinforce that I can give up.  That we have to stay open, our members are counting on you guys. Juan would constantly tell me "you guys are the one hour of normalcy us members have everyday, and it means and does so much for us physically and mentally!"  Because of Juan encouraging us not to give up that one hour of normalcy per day has once again turned into a vibrant community serving all the health and wellness needs of every single person in this community! 
Juan, congratulations on being the athlete of the month for March 2021.  You are a foundational piece of this community!  KEEP IMPACTING THE LIVES OF THOSE AROUND YOU!  After All that is what a community is all about. "TOGETHER BUILDING THE UNBREAKABLE!"
-Coach Chris
What do you enjoy most about being a member of CrossFit Middle Village?
There are so many things that i enjoy about being a member, but if i had to list several attributes of CF Middle Village I would say:
1.Great Atmosphere
2.Positive Energy
3.Amazing and constructive coaching.
4.Super Supportive members.
How/when did you get involved in CrossFit? 
I had several friends that were doing crossfit and had very positive things to say, I walked into a gym that had crossfit, I met Coach Chris and did a workout and the rest is history.   
 
What was your first CrossFit workout? How did you feel afterwards?  
All I remembered from my first crossfit workout is it was very tough and I could not  finish it. I was in shock, and right then I committed myself to never being  in the position of not being able  to finish a workout
 
What do you enjoy most about CrossFIt?
The workouts are amazing but the best part of crossfit is the relationships that you form with the other members. 
What is your favorite WOD or Lift?
Cleans are my favorite
What is your least favorite WOD or Lift?
Overhead Squats 
What motivates you? How has CrossFit changed you?  
I am motivated by the coaches the other members and the challenging workouts,  
The biggest change is how I view success, 
I have learned that success is not solely measured by time or sets accomplished at the end of the workout.  It can be performing a movement that you couldn't do before, improving your technique, etc… Success in crossfit comes in so many ways..
What were your goals when you started this journey ? 
My goals were to stay fit and to constantly push and take care of my body.
 
What are your goals for the upcoming year?  
After last year I am striving  to meet the below goals:
1.Stay healthy
2. Improve physically and mentally 
3. Become a better person.
Do you have any advice for new members? 
My advice would be:  
1.Not to be afraid to push yourself
2.Enjoy every workout , because if you keep pushing you will see great results.