Image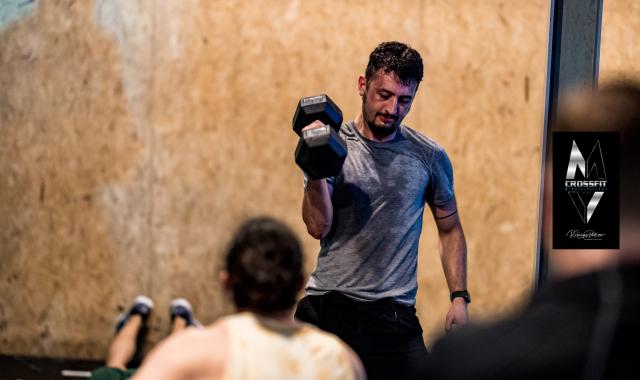 EVAN REBILLOT
When the  coaches sat down to discuss candidates for Athlete of the Month a few weeks ago, we talked a lot about what the qualities we look for in such a person are. Things like improvement, enthusiasm, positivity, and a willingness to try new things. But one quality came up that perhaps gets overlooked, and that is commitment. CrossFit works best not as a once in awhile thing, but as a persistent and steady climb to a life time of fitness. After talking about these qualities it was clear that one member who stood out ,which is why we choose Evan as our Athlete of the Month.
Evan's phenomenal show of consistency the last few months have not gone unnoticed, he rides his bike to the box and gets focused ready to work and learn almost every day. What's even better is that his consistency has paid off. Evan has improved so much over the past few months in strength, gymnastics skills, and cardiovascular capacity. He has also developed confidence in his workouts and a fierce drive to complete them with everything he's got. Evan is wonderful to have in class and quick to support those around him. He's a part of what makes Crossfit Middle Village great and is why he is our Athlete of the Month. Congrats Evan! Coach- Jray
What do you enjoy most about being a member of CrossFit Middle Village? 
I love the sense of community and positivity that our gym fosters. We come from such a wide variety of backgrounds and life challenges yet the adversity we face in the workout feels like something that is both a deeply personal and shared collective goal. It's amazing to not only be present for our own moments of growth, but to be surrounded by like-minded individuals on a similar journey. It would be remiss of me to not mention the coaches also - their energy and passion for this, day in and day out, is truly something incredible. I would not be even halfway close to where I am today were it not for them pushing me and believing in me. 
How/when did you get involved in CrossFit? 
I first started attending classes in March of 2021. Hilariously enough, my first "real" Crossfit class was the first part of the Open 2021… interesting start to say the least. I actually was interested in this gym from the deep/early pandemic days when I used to take long bike rides to Forest Park and Juniper Valley Park. I saw some members working out hard in the park and I said to myself "I wanna join this crew!"
What was your first CrossFit workout? How did you feel afterwards? 
It was the first workout of the Open 2021 - I think it was wall walks and double unders. To be perfectly honest, I felt like I was going to die. I may have skipped one of the other workouts of the open after that (woops!) but I eventually stumbled back.. And I'm glad I did!
What do you enjoy most about CrossFIt?
I love the moment when a workout is getting really intense and we mentally say to ourselves "I can't do this!" And then we do it! It's those small moments that drive me forward every day.
 
What is your favorite WOD or Lift? 
For as crazy as this sounds, I love the combination of barbell movements with running in a workout (especially deadlifts and running). I know a lot of crossfitters despise it, but it's such a thrill to me.
What is your least favorite WOD or Lift?
Burpees over the bar with a barbell movement – yikes
What motivates you? How has CrossFit changed you? 
Becoming more intentional in my fitness and growth has made me a more grounded person. There's something humbling about realizing the power of your own strength on both a physical and emotional level and translating that energy into other aspects of your life.
What were your goals when you started this journey ? 
When I first started, I wanted to improve my form, gain skills in regards to weightlifting and to push my endurance further and further.
What are your goals for the upcoming year? 
I want to get better with snatches and with cycling my complexes - both areas which I still struggle with. I also aspire to gain more gymnastic knowledge and be more intentional with increasing my overall mobility.
Do you have any advice for new members? 
Just get out there! Be enthusiastic about yourself and your wellness - if you aren't, who else will be? Stop doubting yourself or your ability. We all have so much to learn and the knowledge and work is truly never finished. Be consistent and hold yourself to it and you will succeed.