Image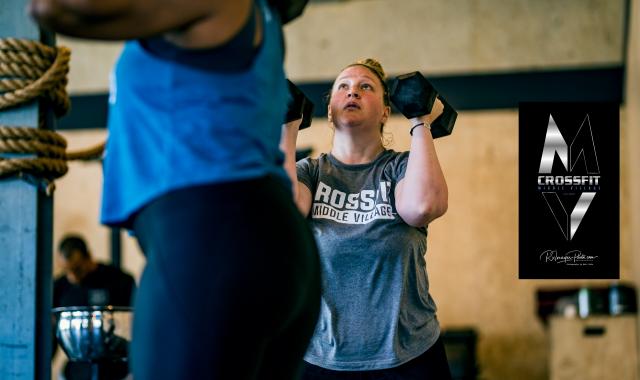 DANA DEFELICE 
What do you enjoy most about being a member of CrossFit Middle Village? 
I enjoy that every WOD is different. I'm never bored working out at CFMV. I also enjoy how committed the coaches are to your progress and meeting your goals. They are just as proud as I am when I hit a PR! 
How/when did you get involved in CrossFit? 
I joined CrossFit Middle Village last September with Melodie. She was talking about CrossFit for about a year prior and I always told her, "Good luck but you are on your own with that". Finally, she spoke about it again last August and something just clicked. I knew if I wanted to see changes in my body, I would have to work at it and so I made the decision to commit myself to working hard and being held accountable and I'm so thankful that I did. Thanks Melodie for pushing me to doing something outside my comfort zone! 
What was your first CrossFit workout? How did you feel afterwards? 
I can't remember what my first CrossFit workout was exactly, but I do remember there were burpees and it was awful, but I finished! I felt so proud of myself for not giving up and sticking with it.
What do you enjoy most about CrossFIt?
I enjoy the community the most. Everyone is rooting everyone on during class, not just the coaches. I also enjoy having the coaches know what you can and cannot do. They know when they can push you during the workout. 
What is your favorite WOD or Lift? 
My favorite lift are back squats because I feel so strong after doing them. It was one of the first movements that I was able to lift 100lbs doing. 
What is your least favorite WOD or Lift?
My least favorite lift are snatches and overhead squats. They are still so uncomfortable for me, but I'm slowly getting better and moving faster while doing them. 
What motivates you? How has CrossFit changed you? 
Working out with friends is a big motivator for me. Having that person to hold me accountable is what keeps me consistent and pushing myself to always do my best. CrossFit has made me stronger, not just physically but mentally as well. When I'm having a bad day, I think about what I'm able to do physically and it gets me through that bad day or moment. I just think to myself, "If I got through that workout this morning, I can get through this."
What were your goals when you started this journey ? 
My goal when I started this journey was to lose weight and feel strong. 
What are your goals for the upcoming year? 
My goals for the upcoming year is to still lose weight, but also to become strong enough to do some movements that I can't do yet, for example toes to bar or push ups. 
Do you have any advice for new members? 
Stay consistent and have fun!!! You will be surprised how fast you improve with every WOD and lift.