Image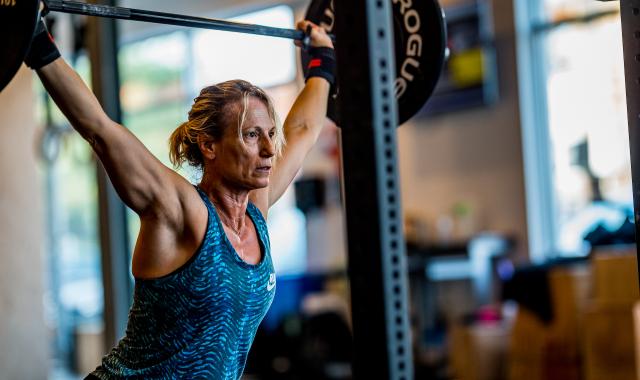 LINDA MALINE 
What do you enjoy most about being a member of CrossFit Middle Village? 
I love being a member at Crossfit Middle Village because the coaches consistently help me improve my weakness, teach me proper technique and help me move better and improve my overall fitness level. The members at CFMV are my second family. They accept me for who I am and always make me feel loved and always help motivate me to keep pushing myself to be a better person in and out if the gym. 
How/when did you get involved in CrossFit? 
I got involved in CrossFit 7 years ago. I started boot camp classes after my first child Jason was born 12 years ago. I also started participating in obstacle races which I love. I was introduced to CrossFit by a Crossfit coach who also did park workouts. I fell in love with Crossfit the first class I attended. 
What was your first CrossFit workout? How did you feel afterwards? 
I wish I remembered what my first CrossFit workout was but I don't. All I know was that it was fun, exciting and challenging. I felt alive, strong and childlike.  I knew this was my new found workout regime. 
What do you enjoy most about CrossFit? 
The thing I enjoy most about Crossfit is that the workouts are constantly changing, we work on different aspects of fitness.  I get bored easily and with Crossfit I never am bored with the workouts. I also love the community. They are supportive and loving. We all help each other push ourselves beyond our perceived capabilities. Crossfit makes me feel powerful, strong and confident!
What is your favorite WOD or Lift?
My favorite WOD's consist of varied skills and amraps. Some of my favorite lifts are cleans, overhead lifts. I grew up competing in gymnastics. I love any and all gymnastics moves.
What is your least favorite WOD or Lift?
My least favorite movements are the ones that are the most difficult for me. The SNATCH!!!
What motivates you? How has CrossFit changed you? 
Working out motivates me. Being around other people who share my love for fitness motivates me. CrossFit has changed me because it teaches me how to me disciplined on a daily basis. It is not easy to fit in workouts with work, family, children and their activities. My love for CrossFit makes me plan better so I can get in my workouts so I can be a better mother, wife, teacher, friend and person. 
What were your goals when you started this journey ?
My goals when I first started my journey was to be able to workout more consistently, stay fit, be strong and love what I do. 
What are your goals for the upcoming year? 
My goals for this upcoming year is to add more cardiovascular workouts to my fitness regime. I also want to take morning classes so I can be consistent working out 5 days a week. 
Do you have any advice for new members?
My advice to new members is to believe in yourself and just show up to class even when you might not want to. If you come to CrossFit and do the workouts you improve your fitness level, meet new friends who become your second family and feel stronger and more confident. I have never left a CrossFit class feeling bad. I might not always feel motivated to workout but I always feel a million times better after a class.